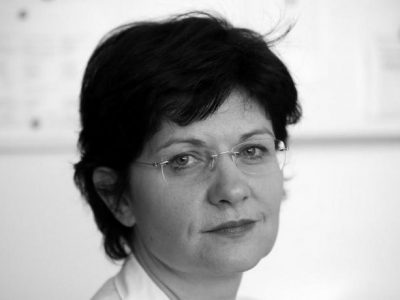 Leja Dolenc Grošelj, Slovenia
How did you get involved in OSA field?
I was trained in Sleep medicine by prof. Michel Billiard in University hospital in Montpellier, France. As European expert in sleep medicine and a Cofounder of European Sleep Summer School I'm involved in different fields of sleep medicine.
How is this work in conjunction with your speciality training?
As the founder of first Sleep laboratory in Slovenia and the National sleep society I'm involved in the field for more than 25 years.
How do you see ideal collaboration between doctors of surgical and non-surgical specialities?
Teamwork in essential in the field of OSA.
What kind of problems you encounter at your practice?
Too many patients, not enough facilities.
How do you see OSA diagnostic and treatment in the future?
New technologies (as hypoglossal nerve stimulation), more Apss to control the patients.
Can you name an article or two that you have read in the last year and you think have influenced understanding/diagnostics/treatment of OSA?
Seiler A et al. Prevalence of sleep-disordered breathing after stroke and TIA: A meta-analysis. Neurology. 2019 Feb 12;92(7):e648-e654.
Schütz SG et al. Clinical phenotypes of obstructive sleep apnea after ischemic stroke: a cluster analysis. Sleep Med. 2019 Aug;60:178-181.
---
assoc. prof. Leja Dolenc Grošelj, MD, PhD
Neurologist, Clinical Neurophysiologist, Expert in sleep medicine
More info about the speaker here.